Roll over image to zoom in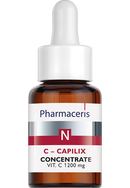 Description
Indications:
The serum is recommended for dilated capillaries and skin under oxidative stress (i.e. free radicals), prone to micro-irritations and accelerated ageing, with deepening wrinkles, losing radiance and elasticity.
It is recommended as revitalising treatment for matte and dull skin or pigmentation.
Action:

The active concentrated 12OO mg vitamin C enables the active ingredients to permeate deeper into the skin, increasing its anti-oxidative potential for daily protection against free radicals.
It actively promotes collagen synthesis and corrects the signs of ageing.
Both fine and deep wrinkles are evened out, while skin elasticity and firmness is restored.
The serum boosts skin regeneration mechanisms and strengthens the capillaries, reducing redness and over-reactivity.
It regulates melanin production and prevents

Directions of use:


Apply the serum at bedtime to the cleansed skin of the face, neck and décolletage.
Rub into the skin and follow with your usual face cream.
The serum should be used for at least a month in the case of treatment for matte and dull skin.
BOTTLE WITH PIPETTE FOR COMFORTABLE AND HYGENIC USE.