Roll over image to zoom in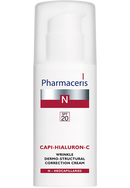 Description
Indications:

The cream is recommended for mature skin with dilated capillaries and redness which becomes increasingly prone to micro-irritation causing permanent damage to blood vessels and tissues.
This makes skin age faster and lose density, with wrinkles becoming deeper

Action:


An active complex of hyaluronic acid and thioproline promotes the renewal of collagen fibres which are prone to age-related degradation, and protects their structure from damage, slowing down the process of skin ageing.
The hyaluronic acid contained in the cream reduces the number, depth and volume of winkles, restoring the skin's optimum moisture levels, tightness and elasticity.
The active fraction of vitamin C not only effectively lightens and controls skin redness, but also reinforces vascular walls, reducing their permeability and making them less prone to breaking.
Avocado oil and InnoTetrapeptide strengthen the epidermal lipid barrier, minimizing proneness to irritation.
Photo-stable UVA/UVB filters form an active barrier protecting from photoageing.
The cream delivers a noticeable rejuvenation effect, strengthening tissue structures and giving the skin a more even tone

Directions of use:


Use daily on the skin of the face, neck and décolletage.
The cream is an excellent make-up base.
SPECIAL CONTAINER WITH A DISPENSER FOR COMFORTABLE AND HYGIENIC USE.