Roll over image to zoom in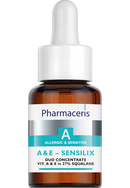 Description
Indications:

Recommended for allergic and sensitive skin which, as a result of physiological ageing, becomes thinned, fragile and rough with age and while exposed to environmental factors.
Best treatment for matte, dull and overly dry skin.
Action:

By nature, allergic skin is more prone to micro-irritations and thus ages faster, with wrinkles becoming deeper, as a result such skin is perceived as older-looking.
The serum with a high concentration of vitamin E (8%) helps to prevent micro-irritation of the skin caused by external factors, enhancing its natural and anti-oxidative properties.
It actively regenerates by slowing down the physiological ageing process.
The skin becomes firmer, deep wrinkles are evened out and skin texture becomes smoother.
The skin is much better hydrated and enriched, while its healthy and natural look is restored.
Highly effective as part of regenerative care after aesthetic medicine procedures with the use of lasers, peels and micro dermabrasion.
HIGH TOLERANCE AND EFFICACY
CLINICALLY AND DERMATOLOGICALLY TESTED
Volume: 30 ml
Directions of use:

Apply the serum at bedtime to the cleansed skin of the face, neck and décolletage.
Rub into the skin and follow with your face cream.
To be used for at least a month of treatment for dull and overly dry skin.