Roll over image to zoom in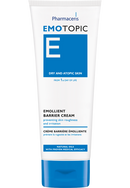 Description
Indications:

Recommended for daily care of sensitive, dry, and very dry skin of the face and body, prone to irritation and allergic reactions.
Also suitable for protecting the skin against environmental aggressors (frost, wind, dry air, irritants) which make the skin rough, irritated, prone to microdamages or contact eczema (around the hands, elbows, face, knees).
Also to be used preventively on heal thy skin to prevent dryness and minimize the risk of developing, aggravating or triggering the recurrence of atopic dermatitis symp toms.
No age limitation.

Action:

The cream provides missing ceramides and lipids to the skin, ensuring optimal hydration, nourishment and smoothing of the epidermis.
It leaves a cohesive lipid protective barrier on the skin, protecting it against envi ronmental aggressors and preventing rough ness and microdamage of the epidermis.
Known for its soothing properties, Canola oil quickly and effectively minimizes symptoms of irritation and localized contact eczema, visibly improving the condition of the skin.
Combined with hemp oil, it is highly effective in accelerating epidermal regeneration. High lipid content effectively restores the barrier function of the skin, preventing excessive water loss.
The emollient formula also con tains sodium hyaluronate, which restores proper hydration levels in the epidermis also in cases of extreme dryness, ensuring instant improvement in skin condition, a long-lasting smoothing effect and a feeling of comfort.
Regular and comprehensive EMOTOPIC emollient care enables longer periods of remission and prevents relapses of AD.

Directions of use:

Use several times a day (1 to 3), depending on the degree of skin dryness; apply on cleansed and dry skin of the face and body