Roll over image to zoom in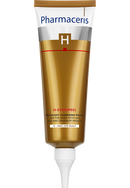 Description
Indications:
The product designed for deep scalp cleansing is indicated for men and women prone to hair loss, thinning or balding, and for people with dandruff and seborrhoeic dermatitis of the scalp.
The trichology formula is recommended for regular or preventive care, to make conditioning treatments more effective and enhance their results.
Action:
The trichology peel effectively removes any impurities and keratinized skin build-up which form the so-called crystallized layer.
It unclogs the outlets of hair follicles and restores physiological balance to the scalp, which is the first essential step towards proper care for the scalp prone to hair loss and dandruff.
Based on the complementary action of biological, enzymatic, and mechanical exfoliants (papain, apricot shells), the peel deeply cleanses the scalp (removing dandruff, sebum, hair spray residues) and makes the hair less prone to oiliness.
The natural formula containing piroctone olamine with antibacterial and keratinization-normalizing properties controls harmful microflora in the plaques, effectively fighting the symptoms of dandruff and preventing its recurrence.
Caffeine, which is known for its ability to extend hair life span, improves microcirculation in the scalp, boosts oxygen supply to cells, and stimulates collagen synthesis, strengthening hair roots.
As a result, it strengthens the hair and reduces hair loss and balding, as well as stimulates and accelerates natural hair growth.
Urea provides optimum hydration of the scalp and prevents excessive dryness.
Scalp peeling promotes the absorption of active ingredients contained in other scalp care products, and enhances their effectiveness.
The peel improves the condition of the scalp and hair, and keeps the hair lifted at the roots without making it oily or weighing it down.
The peeling particles are easy to rinse away from the scalp.
Directions of use:
Use the peel regularly, at least once a week.
Apply the product to wet scalp, gently rub, and then rinse the peeling particles away with water and shampoo your hair.
The peeling treatment prepares the scalp for proper dermocare and delivers the best results when combined with shampoos and other specialist formulas from the Pharmaceris H line which address specific dermatological problems of the hair and scalp.