Roll over image to zoom in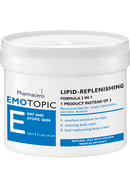 Description
Indications:

Recommended for daily care of chronically dry and atopic skin.
Recommended for problematic skin with dryness and various forms of eczema: atopic, contact, allergic, and psoriatic, as well as skin with increasing itchiness.
No age limitation.
Recommended as a care product for patients during and after dermatological treatment, e.g. topical steroid therapy, in order to prevent the recurrence of dryness and AD.

Action:

The 3in1 formula regulates regenerative processes in the epidermis, reducing its excessive flaking.
High 18% lipid content and 32% emollient content replenish lipid shortages in the intercellular cement, strengthening the epidermis and ensuring its proper physiological cohesiveness.
Soothing and anti-itch properties are provided by Canola oil and hemp oil, which are medically effective in skin care against chronic dryness and atopic dermatitis (AD), enabling longer remissions between flare-ups.
The product absorbs quickly without leaving a sticky residue on the skin.
Regular and comprehensive EMOTOPIC emollient care enables longer periods of remission and prevents relapses of AD.

Directions of use:

OILY BATH EMULSION FOR NEWBORNS, INFANTS, CHILDREN AND ADULTS
Dissolve 1-2 tablespoons of the product in a glass of warm water. Mix to obtain a milky solution. Cool down and add to bath. Do not use additional washing agents. After bathing, dry the skin gently with a towel. Be careful stepping out of the bath because of its slippery surface.
WASHING FORMULA FOR THE BODY FOR INFANTS FROM 6 MONTHS OF AGE, CHILDREN AND ADULTS
Apply a small amount to wet skin and spread evenly. Rinse with water and dry off with a towel, without rubbing. In contact with water, the formula turns into a gentle, non-foaming, oily washing emulsion. There is no need to use additional washing agents.
LIPID-REPLENISHING FORMULA FOR INFANTS FROM 6 MONTHS OF AGE, CHILDREN AND ADULTS
Apply on cleansed and dry skin of the body. Use once or twice daily.