Roll over image to zoom in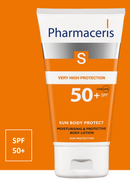 Description
Indications:
his body lotion is recommended for the delicate, sensitive and problem skin requiring very high protection from intense sunlight, sunburns and harmful UVA/UVB radiation. Protective products are also recommended by specialists during dermatological treatment and after aesthetic medicine procedures, in order to protect the skin from discolourations.
Action:
he product contains a special blend of photo-stable UVA and UVB filters with a dual mechanism of anti-UV action (reflecting and absorbing the sun rays) to deliver effective very high protection from intense sunlight and its harmful effects. The cream ensures over 98% UV protection and minimises the risk of developing hyperpigmentation and discolourations. It replenishes lipids. It deeply moisturises and nourishes the skin, forming a barrier protecting the epidermis from excessive dryness. Vitamin E speeds up the epidermis repair process and protects the skin from photoageing. Allantoin soothes and relieves irritations resulting from sun exposure. It is water-resistant, adapted to the needs of active people. It absorbs quickly and does not leave a greasy film on the skin.
Directions of use:
Apply a sufficient amount of the cream 20-30 minutes before sun exposure. Reapply the cream every 2 hours and each time after bathing or swimming.