Roll over image to zoom in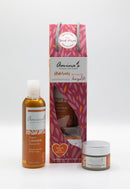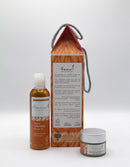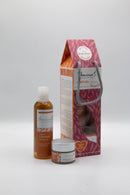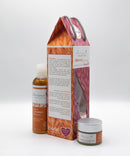 Description
Organic Calendula Shower Oil 250ml 
Nourishing natural oils blended to offer gentle hydration to the skin leaving it soft in a natural delicate way. Calendula petals combined with a variety of plant oils offer a natural healing oil that leaves skin silky smooth. Helps restore lost moisture and protect the skin from damage due to dryness.
Body: Apply daily to entire body during shower and massage gently into moist/wet skin. Add to bath water helps you have a relaxing moisturising and uplifting soak. Use as a massage oil in combination with your desired essential oil.
Hair: As a moisturising and nourishing hair treatment. Apply to dry hair and scalp. Comb through and massage scalp with fingertips. Leave for as long as desired. Wash out using shower wash with as little water as possible initially and then repeat.

Organic Calendula Face & Body Cream
A blend of organic oils, calendula petals and beeswax to produce a moisturising cream that is rich and nourishing. It will moisturise delicately and help the skin restore its natural balance and glow.

Application
Organic Calendula Shower Oil 250ml 
للجسم: يستخدم يوميا أثناء الاستحمام على جميع مناطق الجسم. يدلك بلطف على الجلد الرطب /المبلول. يمكن إضافته لماء الاستحمام للمساعدة على الاسترخاء وترطيب البشرة وإعطائها الحيوية. يمكن استخدامه كزيت تدليك مع الزيوت الطيارة المفضلة لديك. للشعر: يستخدم كعلاج لترطيب وتغذية الشعر حيث يوضع على الشعر الجاف وعلى جلدة الرأس ويدلك بأطراف الأصابع. يمكن تركه للمدة المرغوبة ومن ثم غسله باستخدام سائل الاستحمام مع استخدام أقل كمية ممكنة من الماء في البداية ومن ثم التكرار.
Organic Calendula Face & Body Cream
للوجه: يستخدم مرتين يوميا بعد غسل الوجه على البشرة الرطبة. للجسم: يستخدم بعد الغسول على البشرة الرطبة.

Ingredients
Organic Calendula Shower Oil 250ml 
Olea Europaea (Olive) Fruit Oil, Ricinus Communis (Castor) Seed Oil, Calendula Officinalis (Marigold) Flower Extract, Lavandula Angustifolia (Lavender) Herb Oil, Linalool, Geraniol, Limonene.
Organic Calendula Face & Body Cream
Olea Europaea (Olive) Fruit Oil*, Aqua (Water), Ricinus Communis (Castor) Seed Oil*, Cocos Nucifera (Coconut) Kernel Oil*, Cera Alba (Beeswax)*, Theobroma Cacao (Cocoa) Seed Butter*, C10-18 Triglycerides, Calendula Officinalis (Marigold) Flower Extract*, Lavandula Angustifolia (Lavender) Herb Oil*, Maris Sal (Dead Sea Salt), Glycerin, Sodium Levulinate, Sodium Anisate, May Contain +/- Sodium Hydroxide, Citric Acid, Linolool, Geraniol, Limonene. *From organic agriculture