Roll over image to zoom in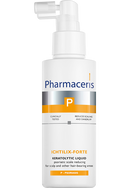 Description
Indications:

The product is recommended for daily treatment of the scalp and other hair-bearing areas affected by psoriatic lesions, as well as for chronic dandruff which is difficult to control.
It is indicated for reducing scale build-up and dandruff, and normalizing epidermal cell desquamation.
The specialist therapy aims to extend the periods of remission. It is also recommended
Action:

This innovative product is designed as a special treatment which fights persistent dandruff and psoriatic lesions, and normalizes the process of epidermal keratinization.
Its concentrated formula enriched with the Immuno activator Vit. D complex activates the VDR gene which encodes the vitamin D receptor, thereby inducing the vitamin D-mediated signaling cascade in the skin to stimulate the genes that regulate cell division, and promote proper regulation of epidermal cornification and desquamation. It makes the dermal structure significantly smoother by softening the skin and restoring its physiological barrier function.
Willow bark extract and salicylic acid gently exfoliate cornified epidermal cells, minimizing the appearance of dandruff and psoriatic scales in the affected areas, extending the periods of remission, and preventing dysfunction flare-ups.
The antibacterial complex DDL inhibits proliferation of bacteria and prevents the recurrence of scales and dandruff.
Highly concentrated urea has a strong keratolytic effect; it moisturizes and regenerates the skin, restoring comfort and a healthy appearance.
The formula soothes irritations, and eliminates skin itching and burning.
The product has a neutral pH of the skin.
It does not weigh hair down or make it clumpy or greasy.

Directions of use:

During flare-ups (chronic xerosis, atopic dermatitis, severe cases of psoriatic lesions), apply the product daily in the morning and at bedtime onto the affected areas, and especially the hair-bearing areas of the body and wet or dry scalp, using a comb to part your hair.
Spray the product onto each parting three times by pressing the atomizer button.
Then rub it gently into the scalp.
Do not rinse.
Use the product preventively a few times a week at bedtime.