Roll over image to zoom in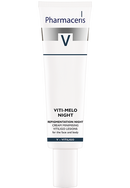 Description
Indications:
The product is recommended for adults and children (aged 5 and older) with vitiligo-affected and depigmented skin for night use to even out the skin tone.
It can be used with NB-UVB lamp.
Action:
Providing patented protection against free radicals, the unique complex of rosmarinic acid and thioproline globally interacts with vitiligo skin cells.
It has an anti-inflammatory effect on IL-6 (patent application), and protects the mitochondria against oxidative damage.
The active ingredients support pigment production and prevent depigmentation.
Naringenin is engaged in silencing the vitiligo-activating genes (Bmal1, Per1) and activating the mitochondria (patent application).
Jointly with VDR, which stimulates the vitamin D receptor, it promotes repigmentation of the skin.
The product has restorative properties (RPF 4.2×1021 = radical protection factor), and reduces vitiligo lesions on the skin by impeding their enlargement and preventing the development of new ones.
MelPigment supports the reduction of the colour contrast by gradually pigmenting the skin and reducing discolouration.
Directions of use:
Use daily at bedtime.
Apply carefully onto depigmented areas, starting from the centre of the patch and working your way towards the edges.
To achieve the expected results, use the product jointly with the VITI-MELO DAY cream.