Roll over image to zoom in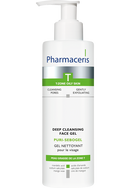 Description
Indications:
Antibacterial gel wash for daily cleansing of skin affected by acne, which is prone to breakouts and excessive oiliness.

The product is recommended for the skin of all ages.
It substitutes traditional soap.



Action:

The gel wash unclogs pores and effectively removes impurities and excess sebum without causing skin irritation or dryness.
Thanks to its antibacterial properties, it cleanses acne-prone skin and restores the proper balance of its bacterial flora.
Sodium salicylate and mandelic acid gently exfoliate dead epidermal cells and reduce acne breakouts.
The gel wash is based on exceptionally mild cleansing agents which do not compromise the skin's natural protective barrier.
It is very well tolerated and soap-free.
HIGH TOLERANCE AND EFFICACY
CLINICALLY AND DERMATOLOGICALLY TESTED
Volume: 190 ml
Directions of use:

Apply the gel wash onto moistened skin.
Wash your face using circular motions and avoiding the eye area, and then rinse with clean water.
Follow with an appropriate toner and cream from the Pharmaceris T line.
Use daily in the morning and at bedtime.