Roll over image to zoom in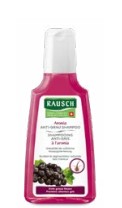 Description
Hair greying is a natural biological ageing process. The production of melanin, the pigment that gives hair its natural colour, diminishes with age. The hair then turns grey and eventually white as the pigment cells diminish. Up to a certain point in time, this process can be influenced or reversed. Our Aronia ANTI-GREY LINE helps to preserve and reactivate the hair's natural colour.
Aronia ANTI-GREY SHAMPOO Special care for the first signs of grey. Enhances the effect of Aronia ANTI-GREY INTENSIVE FLUID. With a highly effective peptide and a unique extract complex of Swiss aronia, tobacco and black pepper.
About Rausch:
We have been cultivating our herbal expertise since 1890. Using special in-house methods, we extract natural active ingredients from carefully hand-selected herbs to harness this treasure for you to feel beautiful. Environmental sustainability is in our DNA.
- number 1 hair care product in Switzerland
- Silicon and paraben free
- products of up to 99% of natural origin