Roll over image to zoom in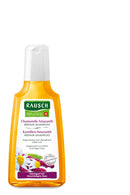 Description
Every day, washing, blow-drying and styling expose hair to stress and damage. This can cause the cuticle layer to become rough and fragile, leaving hair looking brittle, dull and lacklustre. Damage at the ends can develop into split ends. Our Amaranth REPAIR LINE helps to repair and replenish damaged hair, restoring its natural shine while protecting the ends.
Amaranth REPAIR RINSE CONDITIONER Gives suppleness and shine to damaged hair. Balances porous areas of the hair, increasing elasticity. With amaranth oil and selected extracts of quinoa and chamomile blossom.
About Rausch:
We have been cultivating our herbal expertise since 1890. Using special in-house methods, we extract natural active ingredients from carefully hand-selected herbs to harness this treasure for you to feel beautiful. Environmental sustainability is in our DNA.
- number 1 hair care product in Switzerland
- Silicon and paraben free
- products of up to 99% of natural origin