Roll over image to zoom in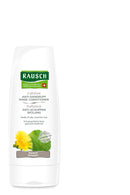 Description
Dry, flaky dandruff isn't a problem with the hair, it's a problem with the scalp. Dandruff is often accompanied by itchiness, redness and a dry scalp. Our Coltsfoot ANTIDANDRUFF LINE removes dandruff from the scalp with lasting effect and is especially mild, reducing redness and itchiness. It reduces the proliferation of yeast-like fungi, which often cause dandruff owing to their excessive growth. For beautiful, healthy hair from root to end.
Coltsfoot ANTI-DANDRUFF RINSE CONDITIONER Enhances the effect of Coltsfoot ANTI-DANDRUFF SHAMPOO. Moisturises and soothes the scalp. For easy combability, suppleness and natural shine. With precious extracts of coltsfoot and burdock root.
How To Use
Apply directly to a damp scalp and the hair, allow product to take effect for 2 – 3 minutes and rinse well
About Rausch:
We have been cultivating our herbal expertise since 1890. Using special in-house methods, we extract natural active ingredients from carefully hand-selected herbs to harness this treasure for you to feel beautiful. Environmental sustainability is in our DNA.
- number 1 hair care product in Switzerland
- Silicon and paraben free
- products of up to 99% of natural origin