Roll over image to zoom in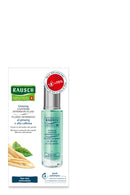 Description
We have an average of 100,000 strands of hair. Each one of them goes through a growth phase, a resting phase and ultimately, a loss phase. The staggered timing of these hair cycles helps to ensure that the amount of hair remains constant. Our Ginseng CAFFEINE LINE provides a lasting boost to blood circulation in the scalp and promotes natural hair regrowth. The hair's structure is enhanced and the hair becomes stronger and easier to manage
Ginseng CAFFEINE INTENSIVE FLUID Stimulates blood circulation in the scalp and works to counteract hair loss. Activating and strengthening. With highquality extracts of ginseng, nettle, basil and stimulating caffeine
About Rausch:
We have been cultivating our herbal expertise since 1890. Using special in-house methods, we extract natural active ingredients from carefully hand-selected herbs to harness this treasure for you to feel beautiful. Environmental sustainability is in our DNA.
- number 1 hair care product in Switzerland
- Silicon and paraben free
- products of up to 99% of natural origin
.