Roll over image to zoom in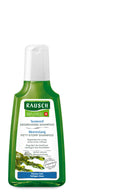 Description
Greasy hair is caused by overactive sebaceous glands. Hair near the roots is greasy and the hair looks thin and stringy. For a healthy scalp and a lasting feeling of freshness, the hair needs special care. Our Seaweed DEGREASING LINE soothes and regulates the scalp. It inhibits greasy build-up and adds volume. For fresh, healthy, beautiful hair all day long.
Seaweed DEGREASING SHAMPOO Gently regulates the sebaceous glands and inhibits oily build-up. For weightless, beautifully fresh hair with natural volume. Made from 40 % precious extracts of seaweed, horsetail and panama bark.
About Rausch:
We have been cultivating our herbal expertise since 1890. Using special in-house methods, we extract natural active ingredients from carefully hand-selected herbs to harness this treasure for you to feel beautiful. Environmental sustainability is in our DNA.
- number 1 hair care product in Switzerland
- Silicon and paraben free
- products of up to 99% of natural origin