Roll over image to zoom in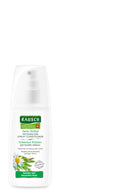 Description
A healthy scalp provides the nourishment and foundation for beautiful, healthy hair. This requires special care. A healthy scalp with optimal circulation allows the hair to reveal its true beauty. Our Swiss Herbal CARE LINE with naturally pure Swiss herbal extracts strengthens the hair, gives it more body and texture and invigorates the scalp.
Swiss Herbal DETANGLING SPRAY CONDITIONER Instant care for long, unruly hair; especially suitable for children. With precious extracts of Swiss chamomile blossom, horsetail and birch
About Rausch:
We have been cultivating our herbal expertise since 1890. Using special in-house methods, we extract natural active ingredients from carefully hand-selected herbs to harness this treasure for you to feel beautiful. Environmental sustainability is in our DNA.
- number 1 hair care product in Switzerland
- Silicon and paraben free
- products of up to 99% of natural origin