Roll over image to zoom in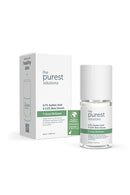 Description
The Purest Solutions
 0,7 Azelaic Acid & 0,5 Beta Glucan
Absorbs excessive sebum for T-zone
T-zone Oil Eraser oil absorber boosted formula reduces shiny feeling by balancing sebum. Azelaic Acid, Tea Tree Oil and Rosmarinus Leaf Extract combined for ultimate solution of oil and acne control along with soothing.
Combination skin that needs sebum balancing on T-zone.
Acne prone oily skin
How to use: Apply this product to the T-zone. Apply the product by absorbing it with circular movements with the help of the applicator so that it does not leave white marks. Let it dry for 5-10 minutes on the skin. After the formula dries and becomes a thin white layer, rinse with plenty of water.
Active Ingredients:
Azelaic Acid: The formulation, which has the ability to reduce redness and purify acne-causing bacteria, also controls melanin secretion and helps reduce skin tone unevenness.
Beta Glucan: It helps to reduce the effects of bacteria and fungi that cause acne by strengthening the immune system of the skin. Beta-glucan has the effect of accelerating the healing process of oily and acne-prone skin by helping to soothe irritated skin and reduce the appearance of redness.
Tea Tree Oil: Tea tree oil, which has anti-bacterial, anti-fungal, and anti-oxidant effects, is effective in soothing the skin and accelerating the acne removal process. It is supportive of balancing sebum secretion and a matte appearance.
Rosmarinus Officinalis Leaf Extract: It is effective in soothing the skin and accelerating the healing process by fighting acne-causing bacteria. It helps in balancing oiliness and removing acne spots.
Ingredients:  Aqua, Methyl Methacrylate Crosspolymer, Talc, Cetearyl Glucoside, Cetearyl Alcohol, Isononyl Isononanoate, Glycerin, Polysorbate 20, Azelaic Acid, Beta-Glucan,  Phenoxyethanol, Ethylhexylglycerin, Aloe Barbadensis Leaf Juice, Sodium Acrylates Copolymer, Lecithin, Anthemis Nobilis Flower Extract, Rosmarinus Officinalis Leaf Extract, Thymus Vulgaris Leaf Extract, Arnica Montana Flower Extract, Melaleuca Alternifolia Leaf Oil, Xanthan Gum.